We own machinery that can produce paper sacks with inside a Polyene lining welded to the bottom with the thickness required by the customer and of different types including coextruded.
This process allows a very high level of protection of the product contained in particular used for packaging milk powder, chemicals and deteriorating materials.
PRODUCT CHARACTERISTICS
Printed in up to 10 colours
Holds weights from 5kg to 50kg
Up to 6 layers of paper
Open mouthed sack
Measurements:
Width from 30 to 70 cm
Length from 42.5 to 120 cm
Base width from 8 to 22 cm"
Sack with valve with and without polyethylene
Measurements:
Width between 25 and 70 cm
Length from 30 to 120 cm
Base width from 8 to 22 cm
Certified sacks
Main types of multi-layer polyethylene-LDPE polyethylene sacks HDPE aluminium film:
paper sacks only
paper and polyethylene sacks in contact with the product with or without "z-fold"
sacks with polyethylene film inserted between layers of paper
aluminium sacks in contact with the product
sacks in coated paper
Sack with handle
– with a valve
– with open mouth
– with heat-sealed valve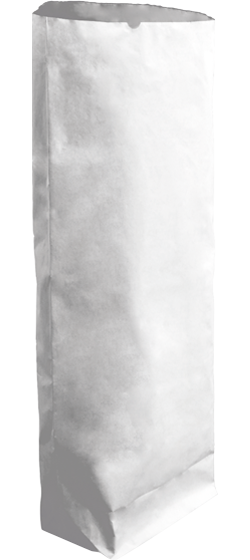 Open mouthed sack
Sack with manual external valve
Heat-sealed valve sack
Automatic valve sack
Questo sito utilizza i cookie per fornire la migliore esperienza di navigazione possibile. Continuando a utilizzare questo sito senza modificare le impostazioni dei cookie o cliccando su "Accetta" permetti il loro utilizzo.