We also make sacks with THERMAL VALVES to guarantee perfect closure.
EASY – OPEN sacks are also increasingly required and supplied to foreign markets.
PRODUCT CHARACTERISTICS
Printed in up to 10 colours
Holds weights from 5kg to 50kg
Up to 6 layers of paper
Open mouthed sack
Measurements:
Width from 30 to 70 cm
Length from 42.5 to 120 cm
Base width from 8 to 22 cm"
Sack with valve with and without polyethylene
Measurements:
Width between 25 and 70 cm
Length from 30 to 120 cm
Base width from 8 to 22 cm
Certified sacks
Main types of multi-layer polyethylene-LDPE polyethylene sacks HDPE aluminium film:
paper sacks only
paper and polyethylene sacks in contact with the product with or without "z-fold"
sacks with polyethylene film inserted between layers of paper
aluminium sacks in contact with the product
sacks in coated paper
Sack with handle
– with a valve
– with open mouth
– with heat-sealed valve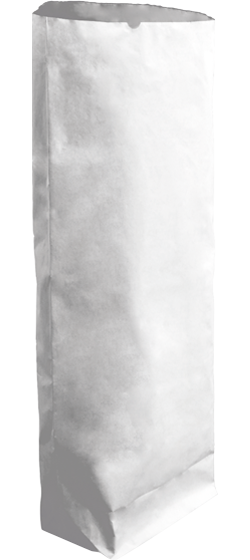 Open mouthed sack
Sack with manual external valve
Heat-sealed valve sack
Automatic valve sack
Questo sito utilizza i cookie per fornire la migliore esperienza di navigazione possibile. Continuando a utilizzare questo sito senza modificare le impostazioni dei cookie o cliccando su "Accetta" permetti il loro utilizzo.